There's a good chance that if you're reading this, it's because visiting cruelty-free, no-ride, ethical elephant sanctuaries in Chiang Mai is on your bucketlist! …as it should be!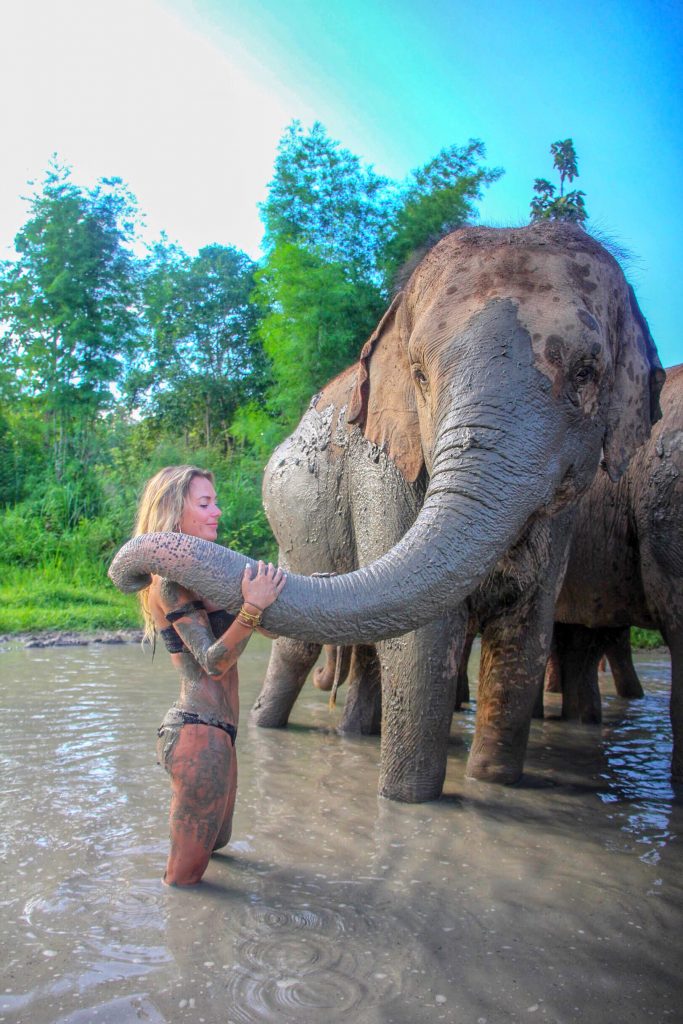 Chiang Mai used to be notorious for elephant riding as well as for the infamous Tiger Temple that got shut down a few years ago for drugging tigers so tourists could pet them. Luckily now there's an alternative, option for seeing the animals of Thailand, which includes interacting with and supporting the ethical elephant sanctuaries.
Recently I went to Chiang Mai with a whole lot of recommendations for different sanctuaries, but really wanted to go to one where I could learn more about how and where the elephants were rescued from.
I was happy to find Maerim Elephant Sanctuary, because they not only taught me everything I was hoping to learn, but I had one of the most magical, enchanting experiences ever with their elephant rescues!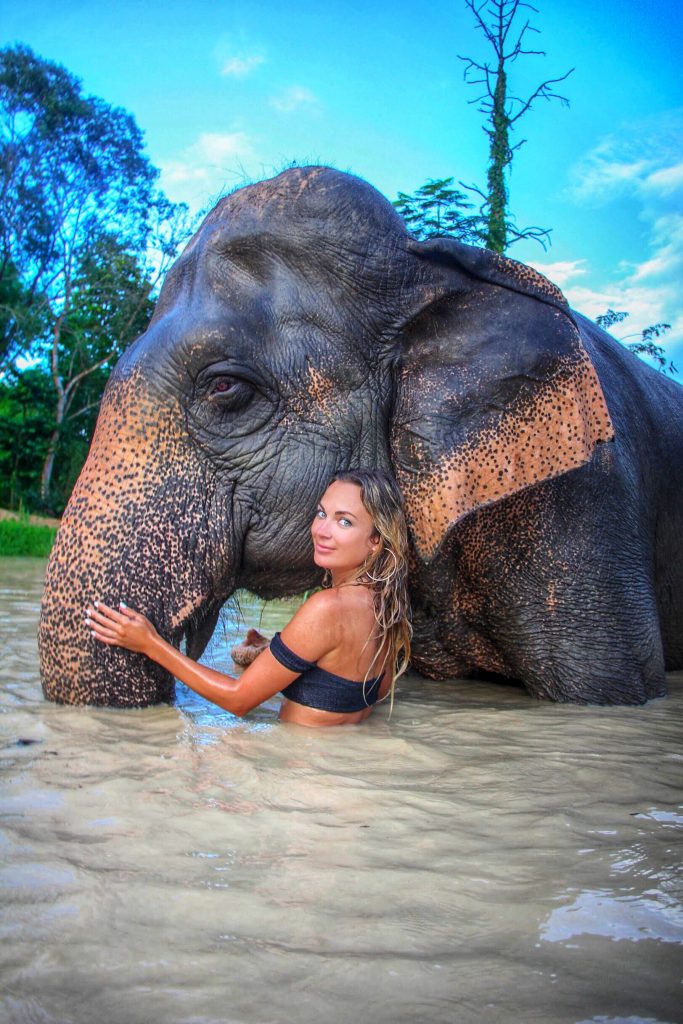 Riding elephants should NEVER be an option, as it subjects these majestic creatures to a lifetime of torture and captivity.. Instead, visit one of the ethical elephant sanctuaries that rescue them, where you can feed, hug, and even bathe with them!
SO! How to do you know which sanctuaries are ethical, and which are just saying they are to make money?
Know Where the Rescued-Elephants are Rescued From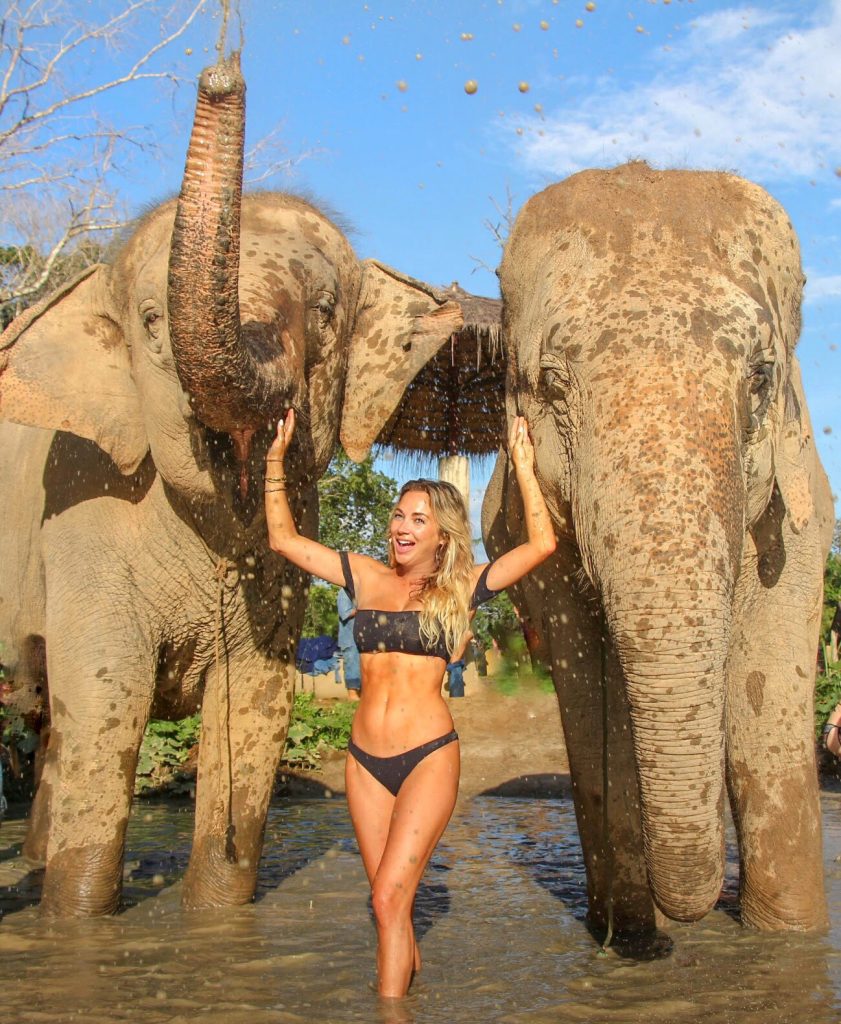 The elephant spraying water came from a circus, so still does a few tricks that it was likely previously forced to do.[/caption]
I always assumed rescued elephants were maybe injured in the wild and that's why they were brought into sanctuaries. While that's possible, It's not always the case.
I learned at Maerim Elephant Sanctuary that their rescued elephants came from elephant riding places, and one even came from a circus!
Since the elephants were already in captivity for so long, it's unlikely they will ever be able to be released into the wild. So, instead they get to live the rest of their lives freely on these sanctuary reserves.
A little internet research should tell you where the elephants at each sanctuary are rescued from, and if they don't, send an email!
How do the Sanctuaries Rescue the Elephants?
In simple terms, they buy them. It makes total sense if you think about it; Calculate how much the elephants are making the elephant-riding places, and pay them up front for it so the elephant can live the rest of its life in peace.
In more complicated terms, buying an elephant is really freaking expensive. Especially for Thai people who don't make nearly as much as we do. The guide at Maerim said the next elephant they're looking to rescue could cost between $28,000 – $60,000, but that's a price that would grant an elephant who's been ensiaved for 40 years, a chance at freedom.
To raise this money, a large majority comes from the tourists. The entrance fee, snacks and sodas, any art work, and donations that come from daily visitors goes towards rescuing the elephants.
There's a couple catch 22's though; some people would say it's still unethical to go there and feed/bathe the elephants and they should be left alone. One could agree, but then how would you raise the money to feed/keep them?
I actually asked about doing a personal fundraiser to get the elephant, and they didn't seem interested. I assume because they also use the money made from tourists to pay the workers.
Another problem with all of this is that you could argue that buying the elephants from the unethical places will only give them more money to go capture a baby elephant from the wild. That's why it's also so important to raise awareness about NOT visiting those places!
Consider Who is Profiting From Elephant Sanctuaries
Obviously in order for the elephant sanctuaries to function, there needs to be workers. Typically they're locals just trying to make money, just like the ones who work at the ride-only places.
While I'm all for supporting local businesses, consider the amount of workers the sanctuary has compared to volunteers. If a sanctuary states that it's highly volunteer driven, or has a lot of expat workers, there's a higher chance that more money is going to the elephants rather than the pockets.
There are also a few of the highest ranked sanctuaries that are run by conservationists. You can find a list of these at the end of the post!
What do you get to do at the Sanctuaries in Chiang Mai?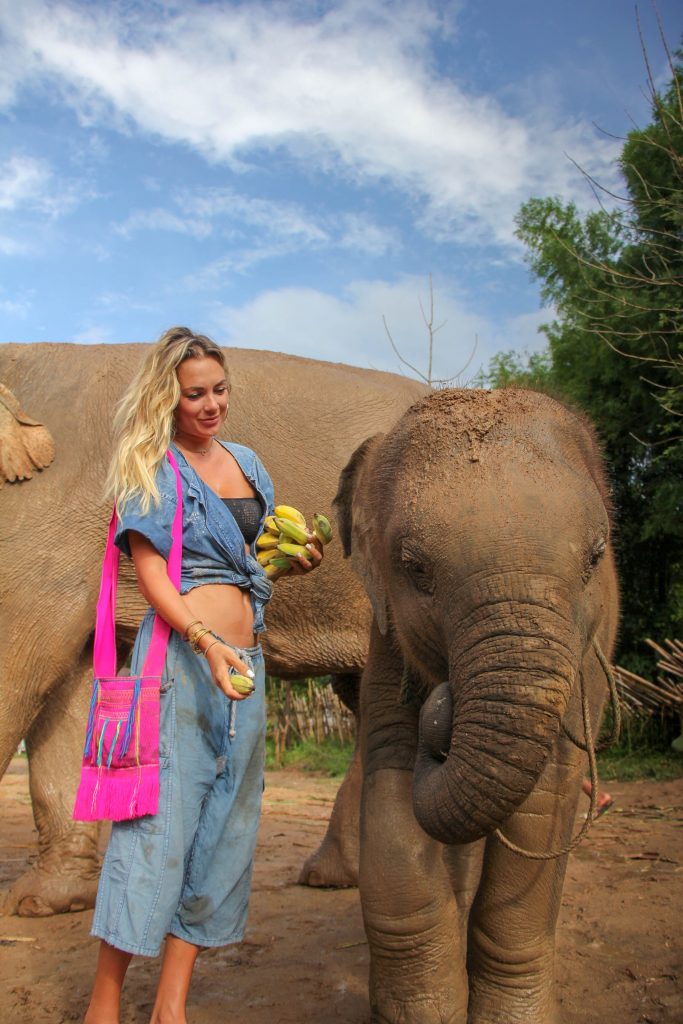 Instead of forcing the elephants to carry you around, you'll have much more personal interactions with them at the sanctuaries, depending which one you go to.
Some won't allow you to even touch them (these are probably the most ethical), but some will because again…they need a way to make money to support them.
The one I went to allowed interaction, and while I don't fully agree with making the elephants bathe twice a day, it was still an incredible experience.
First you'll "meet them" by giving them "candy", AKA bananas, which they absolutely love. After saying hi and giving them their snacks, you'll then be able to walk with them through the jungle area, where they're free to roam on their own as you walk beside them.
They loved going into the area with clusters of bamboo, because the leaves at the top are another favorite "candy" of theirs. So much so that they break the entire thing down with their trunks to get to it!
After snack time is bath time, where you can help give them mud baths as they spray water everywhere with their trunks.
Again, I'm not fully sure what a free elephant's bath schedule is, but it did seem a little uncomfortable for them to do it twice a day. I know most people do go for this experience, but if you want to be truly ethical, you may want to consider one of the sanctuaries where you don't interact!
So Which Ethical Elephant Sanctuaries Are in Chiang Mai and All of Thailand?
Aside from personally browsing through all the pamphlets claiming to be 'No Ride', I did further research using the Responsible Travel website.
Here's a few of their top picks:
Elephant Nature Park: founded by Lek Chalet, a well-known elephant conservationist. Considered a retirement home for rescued elephants.
Elephant Hills: One of the few chain free camps also with jungle tents for a more natural life.
Elephant Valley: Run by the award-winning Elephant Valley Project in Cambodia with strict ethical animal welfare standards.
Burm and Emily's Elephant Sanctuary: permanent home for old, retired, and injured elephants.
Mahouts Elephant Foundation: camping trips to observe rescued elephants who roam freely in the forest.
The sanctuary I went to was recommended by a fellow traveler at my hotel who said it's mainly run by expats. It's called Maerim Elephant Sanctuary.
Have you visited a great ethical elephant sanctuary in Chiang May or anywhere else? I'd love to hear about it in the comments below!